Social media is a great way to manage your online presence
Do you want to get the most out of social media?
Are you ready to stop wasting your time with endless scrolling?
Do you want to network with real scholars in your field online?
Learn how to build an online presence through social media.
Welcome to Cross-Platform Social Media for Academics
This self-paced professional development course is for professors and researchers.
Learn how to
share your work in a meaningful way
network and connect with people online
optimize your social media profiles
write for popular social media platforms like Twitter, Instagram, Facebook, and LinkedIn
find an engaged audience that cares
No technical skills are required.
You get 1 year access to the course and all the lessons.



Hi, I'm Jennifer van Alstyne
@HigherEdPR
I'm a communications strategist for professors and researchers like you.
My company, The Academic Designer LLC consults with research labs, centers, and universities around the world.
Your work deserves to be seen and heard. I'm here to help.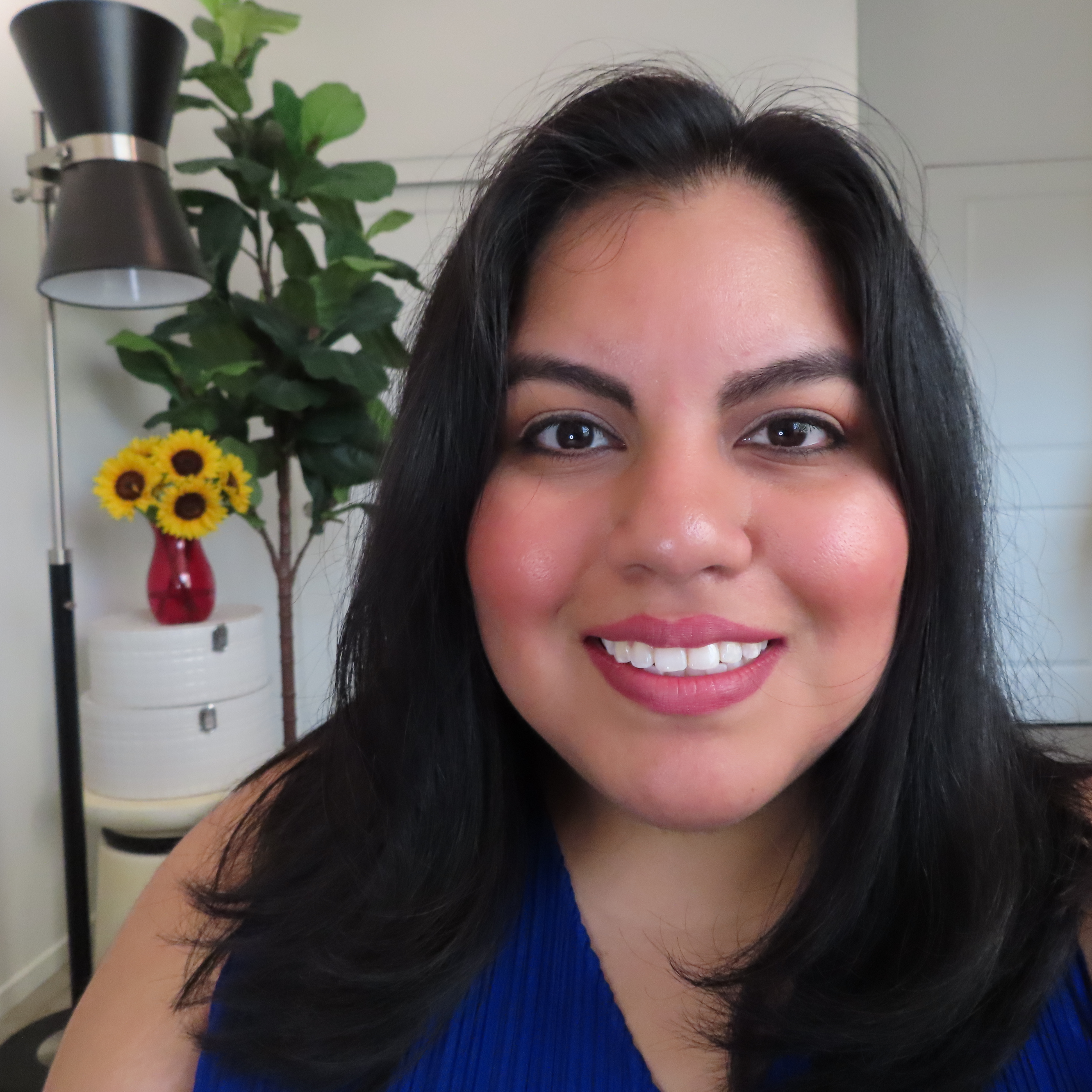 What to expect from this social media course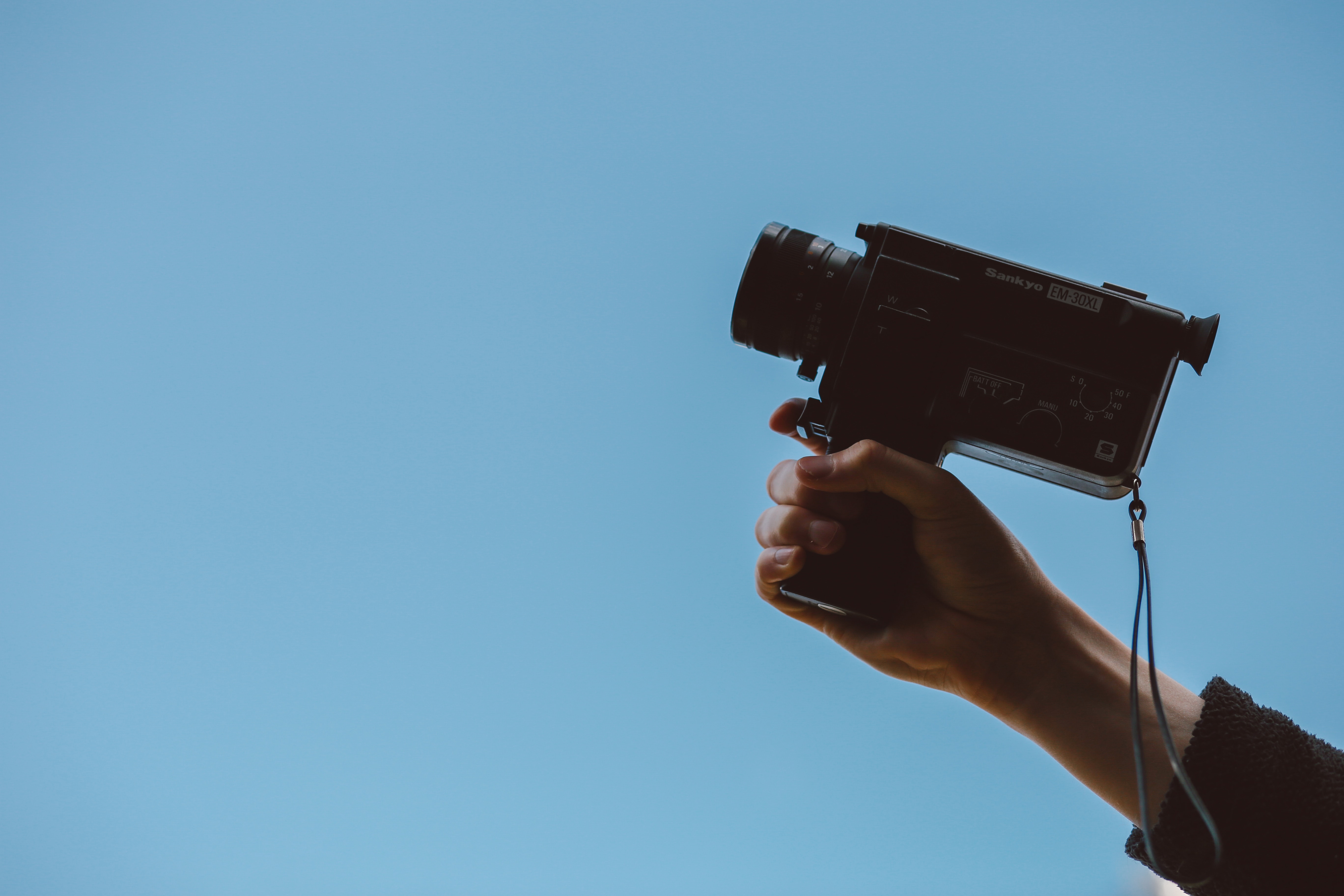 Short video trainings and how-to's
Social media training designed to fit your busy schedule.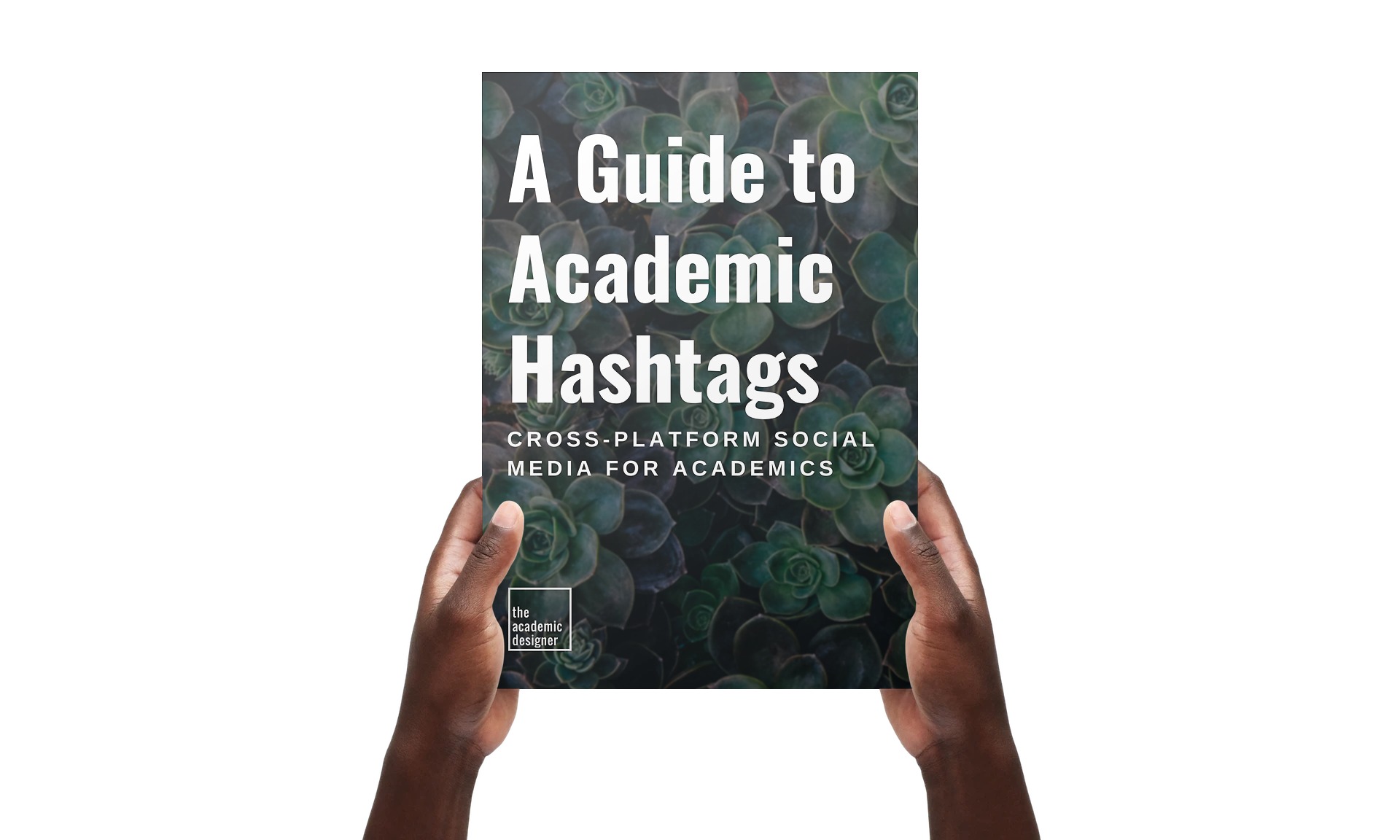 Guides and templates for writing
Downloadable PDF guides and worksheets guide your process.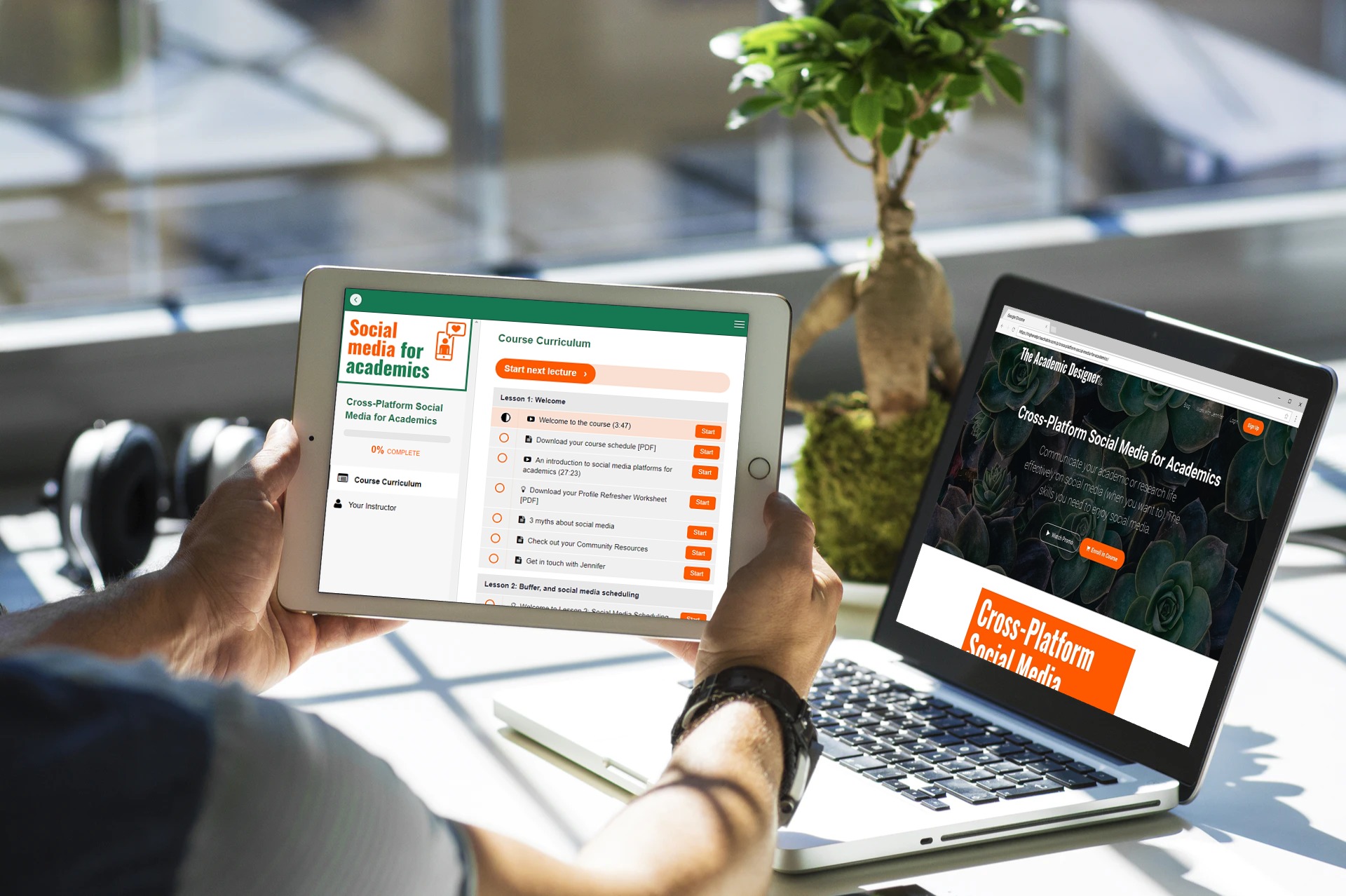 12-months access to the course
Complete lessons at your own pace.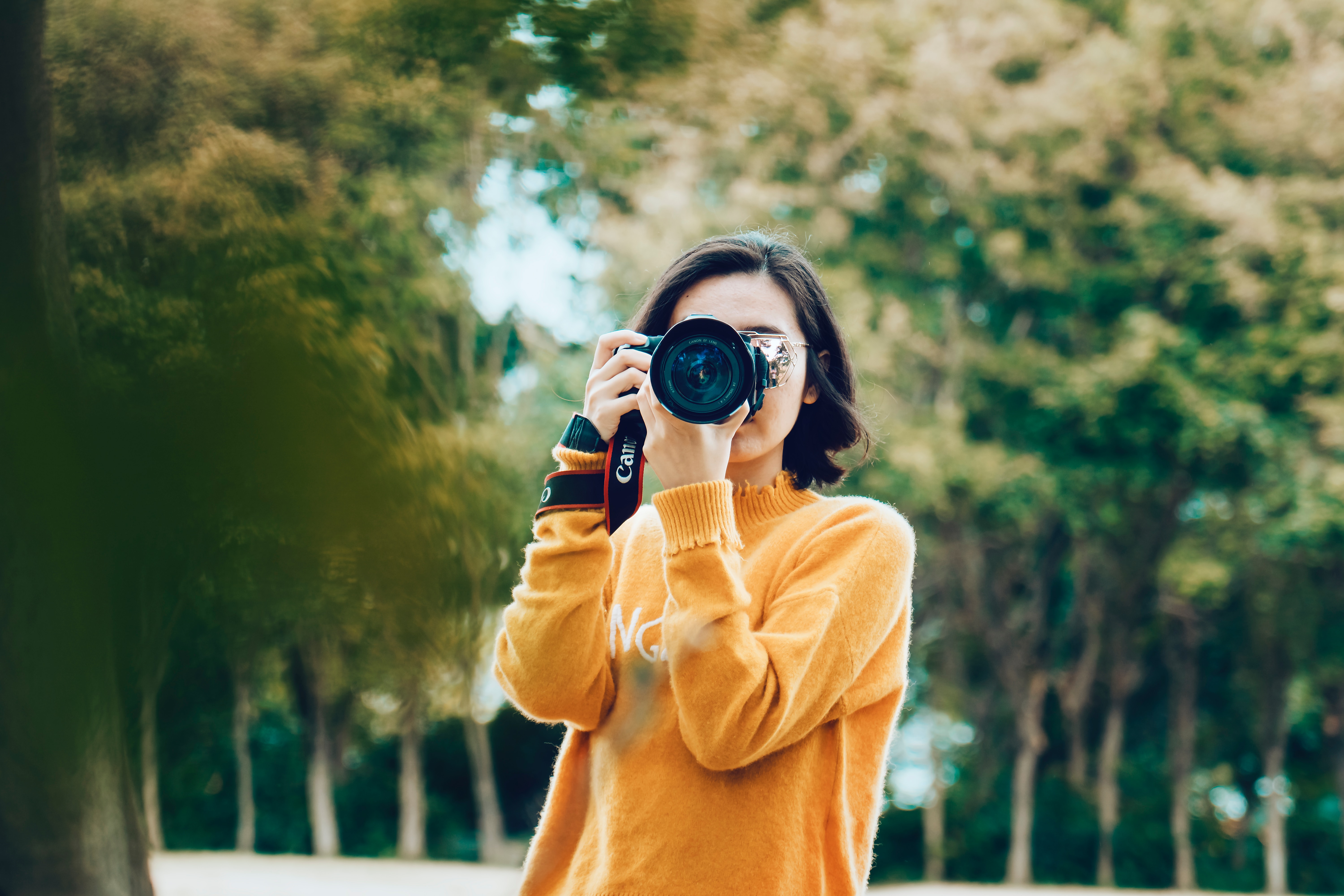 Graphic design and photography
Visuals for social media can boost engagement by as much as 25%.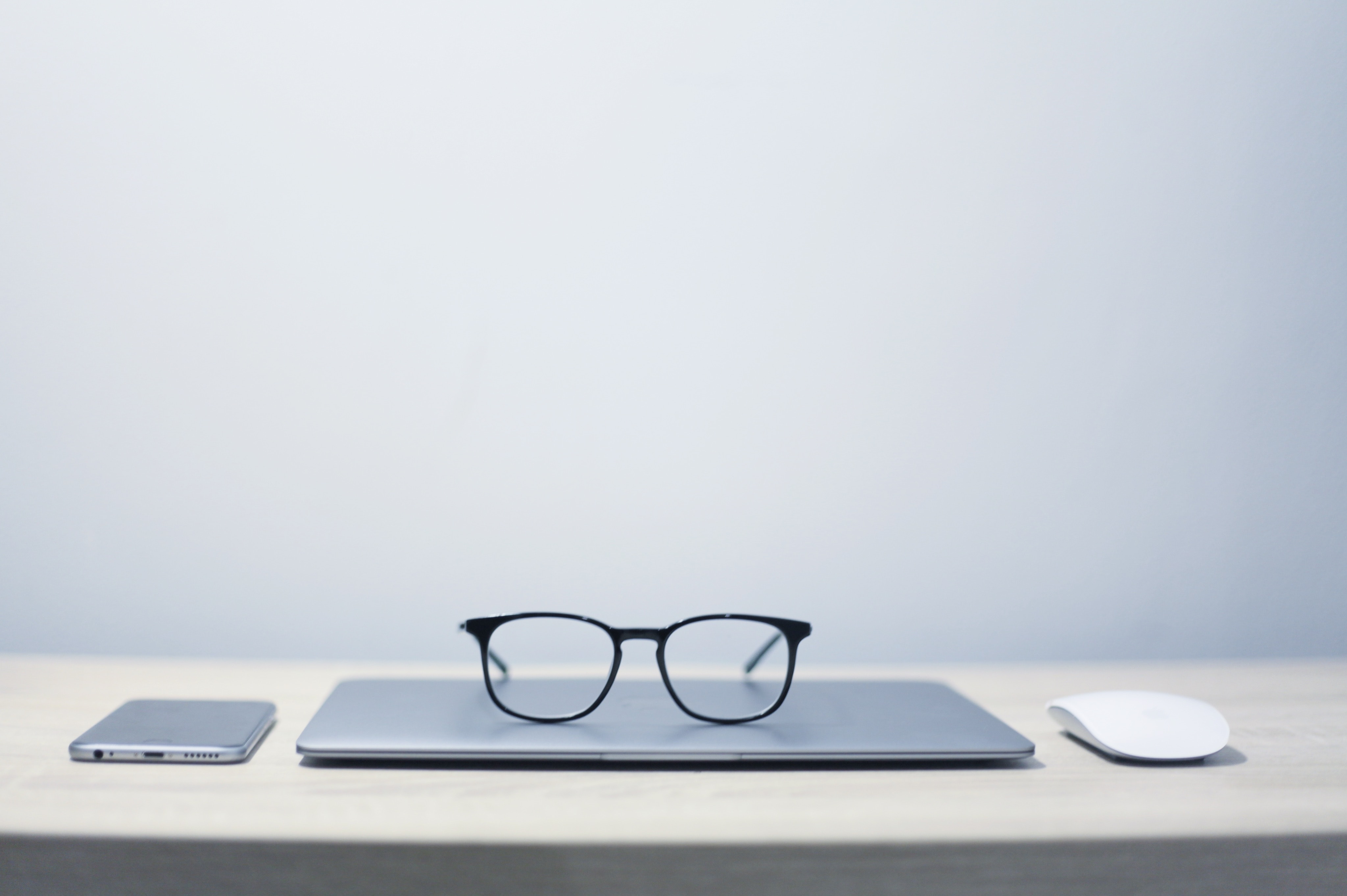 Best practices
Don't search for the info you need. It's all right here. Start today!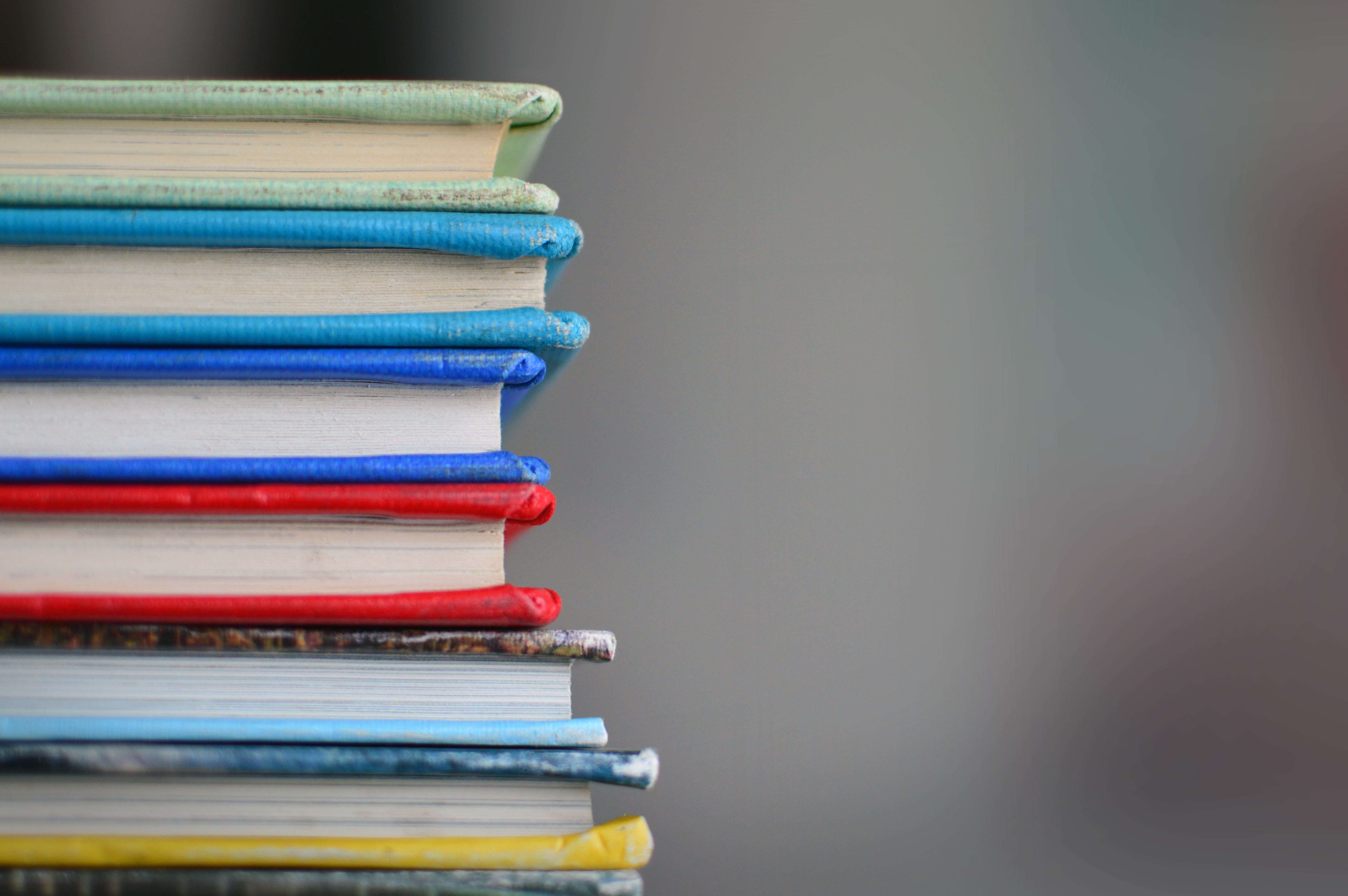 Resource List
Regularly updated list of top resources, blog posts, and videos.
Testimonials
Graduate students, professors, and researchers in 4+ countries have taken this professional development training.
Students who have completed this course have found the content "extremely helpful." And they've found the lessons "very" or "extremely clear."
Average course rating: 9/10 stars
"The course is going great so far. I found the lesson about how to share wins especially helpful because it's hard for me to talk about my accomplishments without feeling like I am bragging. Thanks for breaking down how and what to share so clearly."
— Researcher
"I enjoyed taking this course because it taught me the various ways on how an academic can use Social Media platforms for professional communication, networking, and promoting one's personal/academic brand."
— Lecturer
"I was surprised how many people were interested in what I was saying. The lessons are very helpful!"
— PhD Candidate
"Before taking this course, I was fairly active on Twitter and knew there was potential there for more academic networking. I also knew from my own community-based research that social media had a high potential for being able to reach the general public with my work.
This course helped open the door for me in terms of reaching that potential. I now understand how to integrate multiple platforms with my message. I've learned how to hone my message, make it clearer, and have it reach more people. I've increased my visibility online, which is great.
This has already led to more opportunities, like speaking engagements and invited to be a guest on a podcast, all because I'm networking and getting my message out on social media!"
— Postdoctoral Fellow
Get social media training and enjoy these benefits
Connect with new people in your field
On every major social media platform, there are people in your research field. This course will teach you how to optimize your profiles. And, to write in ways that help people connect with you and your work.
Have an online presence you control
Learn how your social media profiles are part of your larger online presence. This course will help build your online presence on social media.
Help new readers discover your publications
Social media is a highly effective way to share your new academic article or monograph. If you have a new book coming out, this course is a must for you!
Generate awareness for your research area/specialization
Communicating with the public about your research brings more awareness to your field. Social media is a great tool for outreach. We'll talk about how to reach people beyond your immediate audience.


Meet potential collaborators
Networking online has become so important for professors and scientists around the world. Learn how social media can help you meet potential collaborators.


Let funders and publishers know you're ready to share your work
Having an online presence is increasingly important in grant applications and book proposals. Many funders and publishers are looking to work with people able to communicate their work effectively.
Find conversations around the world
Social media can be in real time and asynchronous. That means we can reach people all around the world. The skills you learn in this course will help you reach a global audience (if you want!).
Here's what you'll learn in this course

Watch this video from Jennifer

What's the course like? Hear from one of my students
"In the Cross-Platform Social Media for Academics course, the lessons helped me become more comfortable posting on social media. Before this course, I dreaded using social media because it felt like a lot of work, and it wasn't a thing that I was comfortable doing.
With this course, Jennifer teaches you how to streamline your social media presence and get the most out of your posts so you can reach the audiences that are right for you. This was revolutionary for me!
Since I'm a little anxious about my social media posting, it helped me be more confident with my posting and helped me establish a more regular schedule to maintain a stronger presence across all of my accounts.
The structure of the course taught me about my options first, which helped me make the right decisions for my needs. Then, she showed me how to be more efficient and more effective with my efforts.
Since the lessons are in chunks that you can easily do in short time spaces, I fit lessons around teaching, writing, and helping students. And, when I do a lesson, it reminds me to make a post, so my social media started being more robust even in the first few lessons.
 Now, when I have a talk coming up next week, I'm ready to use my social media platforms to reach my audience. I'm no longer at a loss or dreading the need to put more into my social media presence. I recommend this course for any academics who always put their social media on the back burner or have some anxiety about what or how they're posting."


Included with your course purchase

12-months access to the course
Your course purchase comes with 12-months access. That means you can complete lessons at your own pace.
Cross-Platform Social Media for Academics is the equivalent of a 3-day workshop.
BONUS
You get free access to my LinkedIn for Professors and Researchers masterclass!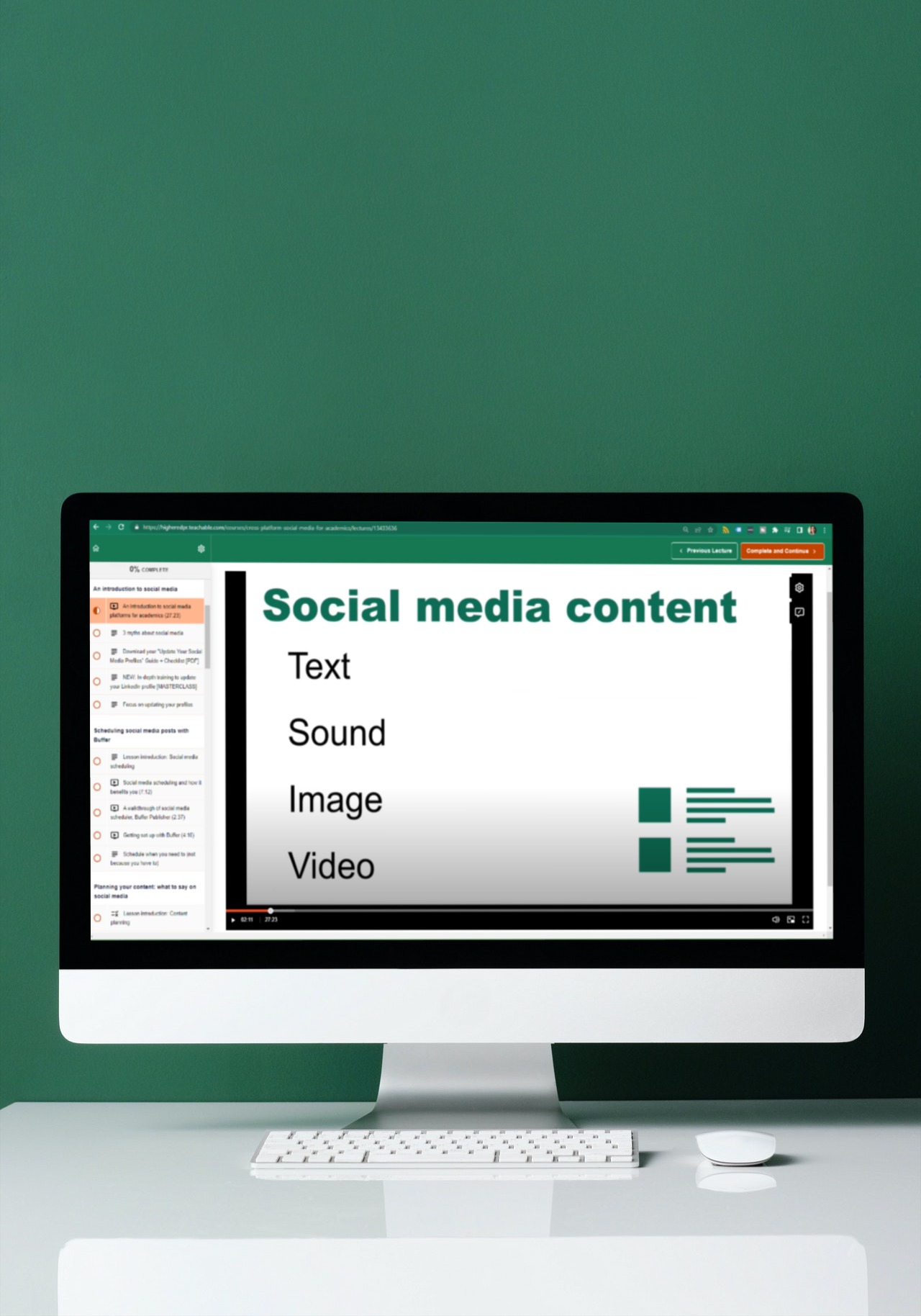 Frequently Asked Questions
When does this course begin?
Once you enroll, you'll get immediate access to the full course.

How long do I have access to this course?
You'll get 12-months access to the full course.
What is the time commitment for this course?
This course is the equivalent of a 3-day workshop. You can complete this self-paced course in your own time. You'll have 12-months access to the full course.

Can't I just find free resources online?
Sure, there are lots of articles out there about social media and how to use it effectively. There are some great books about social media for academics.
You could spend hundreds of hours search for and reading those. But social media changes quickly.
Or, you could sign up for this course. Updated with just the information you need.

What is the difference between this course and other courses?
Most social media courses out there are designed for
social media managers
businesses
digital marketing specialists
They're often focused on business. There are personal-brand focused courses but they're often focused on selling. They don't help specialists like you talk about their work.
The trainings in Cross-Platform Social Media for Academics are designed just for
professors
graduate students
postdoctoral researchers

scientists

researchers
I've trained professors at top research institutions to effectively communicate their work online.
Get specialized training from an expert who understands your needs.

What is the refund policy?
Your satisfaction is guaranteed. No one has requested a refund, but if you don't like the course, email me within 14 days of purchase for a full refund at [email protected]

What if I want additional support?
Email Jennifer to talk about a 60 minute Zoom consultation personalized for your needs at [email protected]
Some academics want in-depth 1:1 support while they build their digital footprint. Schedule a call with Jennifer to talk about her Online Presence Program for professors.